Citrus County votes in Aug. 18 primary
2 min read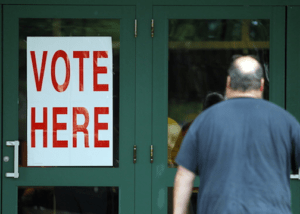 Citrus County voters on Tuesday filled in their ballots to let their choices be known for several political positions.
Winners include Sheriff Mike Prendergast, who defeated three challengers in the primary. He will now face Lee Alexander in November. Alexander is a former police chief in Inverness.
Creg Dalton gathered the most votes in the Property Appraiser race. Sandra "Sam" Himmel won her fifth term as Superintendent of Schools. Maureen "Mo" Baird bested opponent Scott Adams for the Supervisor of Elections post.  Winning the District 3 seat for county commission was Ruthie Davis Schlabach . And winning county commission for District 5 was Holly Davis.
Winning the seat for Circuit Judge 5th Circuit Group 22 was Pam Vergara. And the seat for School Board Member – District 2 was Virginia "Ginger" Bryant.
Below is a breakdown of voting in the Aug. 18 primary.
Sheriff's race:
* Michael Prendergast (REP): 52.33% (13,350 votes)
* Mel Eakley (REP: 28.18% (7,190 votes)
* Patrick A. Crippen (REP): 16.21% (4,135 votes).
* Michael Klyap Jr (REP 3.28% (837 votes)
Total votes cast for Citrus County Sheriff: 25,512 votes
Property Appraiser race:
* Cregg Dalton (REP): 34.07% (8,232 votes)
* Tim Reynard (REP): 31.77% (7,676 votes
* Rob Tessmer (REP): 20.23% (4,888 votes)
* David Gregory (REP): 13.92% (3,364 votes
Total votes cast for Property Appraiser: 24,160 votes
Superintendent of Schools race:
* Sandra "Sam" Himmel (REP): 74.91% (30,367 votes)
* Paul John Reinhardt (REP): 25.09% (10,171 votes)
Total votes cast for Superintendent of Schools: 40,538 votes
Supervisor of Elections race:
* Maureen "Mo" Baird (REP): 71.87% (29,259 votes)
* Scott Adams (REP): 28.13% (11,454 votes)
Total votes cast for Supervisor of Elections: 40,713 votes
County Commissioner – District 3 race:
* Ruthie Davis Schlabach (REP): 49.12% (19,436 votes)
* Mark S. Hammer (REP): 15.29% (6,051 votes)
* Angel Lewis (REP): 14.43% (5,712 votes)
* Luis Marin (REP)L (12.60 percent 4,987( votes)
* Thomas Joseph Corkery (REP): 4.87% (1,927 votes)
* Edwin Lewis Roberts (REP): 3.68% (1,458 votes)
Total votes cast for County Commissioner – District 5: 40,367 votes
County Commissioner – District 5 race:
* Holly Davis (REP) 63.58% (25,665 VOTES)
* Jimmie T. Smith (REP): 36.42% (14,702 votes)
Total votes cast for County Commissioner – District 5: 40,367 votes
Circuit Judge 5th Circuit Group 22 race:
* Pam Vergara (NON): 50.64% (19,655 votes)
* George G. Angeliadis (NON): 49.36% (19,159 votes)
Total votes cast for Circuit Judge 5th Circuit Group 22: 38,814 votes
School Board Member – District 2 race:
* Virginia "Ginger" Bryant (NON): 49.58% (9,681 votes)
* Danielle Damato Doty (NON): 31.14% (12,360 votes)
* Mark D. Garlock (NON): 19.28% (7,654 votes)
Total votes cast for School Board Member – District 2: 39,695