Arrest made in May 17 Circle K robbery in Crystal River
2 min read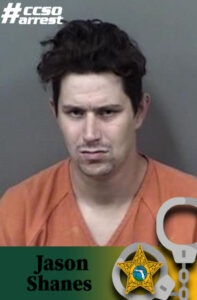 On Monday, detectives with the Citrus County Sheriff's Office's Major Crimes Unit arrested 33-year-old Jason Shanes of Lecanto for a robbery that occurred at the Circle K convenience store located at 6775 South Suncoast Blvd. in Crystal River.
On May 17, 2020 at approximately 04:30 a.m. a man wearing a mask, entered the store and proceeded behind the sales counter where the clerk saw him removing lottery tickets from the case. The man then knocked the clerk to the ground and fled the scene.

Several days later, a second theft of lottery tickets was reported at the Mobil gas station at 782 South Rowe Terrace in Lecanto. Security footage from the Mobil showed the same man, wearing the same clothing, as the robbery to the Circle K.
In following days during both investigations, CCSO Major Crimes Unit Detective Laborda discovered additional security footage showing the same suspect redeeming stolen lottery tickets at another store. However, this time the male did not have a face covering.
On June 19, 2020 a photo of the suspect was distributed via social media which led to the identification of the suspect in the two incidents. Detective Laborda followed up on the tip and made contact with Shanes who made admissions to his involvement in the crimes.
"Thanks to the use of social media and old school policing, we were able to identify this suspect and arrest him for his crimes," noted Sheriff Prendergast. "Let this be a warning to others, we will find you."
Shanes was placed under arrest for robbery, three counts of retail theft, three counts of dealing in stolen property, and battery on an elderly person.  His bond was set at $28,500.