2 arrested in Floral City drug bust
2 min read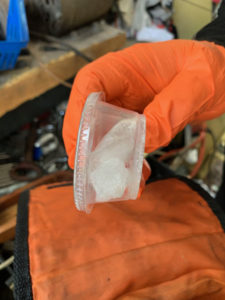 Two Floral City men were arrested on drug charges on Friday by the Citrus County Sheriff's Office Tactical Impact Unit (TIU) following a narcotics search warrant at 5829 S. Liveoak Drive.
Subsequently, the homeowner, 55-year-old Timothy Wilson and home occupant, 51-year-old Tammy Walker were arrested.
Prior to the execution of the search warrant at this home, TIU detectives learned that Wilson was known to traffic in methamphetamine.
After a thorough search of the residence, detectives located cocaine, heroin, methamphetamine, cannabis, oxycodone pills, morphine pills and $1,370.
During his interview with detectives, Wilson admitted to selling narcotics from the residence. His charges are as follows:
Trafficking in methamphetamine

Possession with intent to sell heroin

Possession with intent to sell  cocaine

Possession with intent to sell oxycodone 30 MG

Possession with intent to sell oxycodone 15 MG

Possession of a controlled substance morphine

Possession of paraphernalia
Wilson's total bond was set at $56,000. Wilson's counterpart, Walker was charged with one count of possession of paraphernalia and issued a notice to appear.
This search warrant and arrests come the same week as the arrest of 18-year-old Kaleb Rosenka (DOB-12/20/01) who was charged with selling LSD to undercover detectives.
"Drug traffickers have no place to hide in Citrus County," stated Sheriff Prendergast. "If you traffic in or sell illicit drugs, WE WILL FIND YOU! We are fighting to save lives and that starts with ridding our community of drugs. "
The Tactical Impact Unit is dedicated to eradicating the streets of Citrus County of the dangerous drugs sold by those who have no care for the many, many lives they affect. If you suspect illegal drug activity, please report it to us at (352)726-1121 or to Citrus County Crime Stoppers at 1-888-ANY-TIPS.