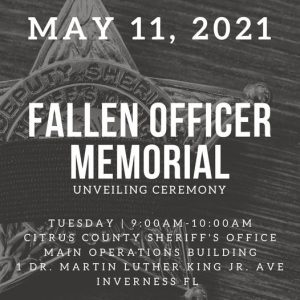 Please join us from 9 to 10 a.m. on May 11 as the Citrus County Sheriff's O(ffice unveil CCSO's Fallen Law Enforcement Memorial.
The memorial was built to commemorate the three Citrus County law enforcement officer who have lost their lives in the line of duty.
💙𝑫𝒆𝒑𝒖𝒕𝒚 𝑺𝒉𝒆𝒓𝒊𝒇𝒇 𝑱𝒂𝒎𝒆𝒔 𝑴𝒄𝑰𝒏𝒕𝒐𝒔𝒉 𝑴𝒄𝑴𝒖𝒍𝒍𝒆𝒏, whose watch ended on Dec. 26, 1899 when he was assassinated in him home. Deputy McMullen left behind a wife, son, and two daughters.
💙𝑭𝒍𝒐𝒓𝒂𝒍 𝑪𝒊𝒕𝒚 𝑴𝒂𝒓𝒔𝒉𝒂𝒍 𝑱.𝑾. 𝑵𝒆𝒘𝒔𝒐𝒎𝒆, Newsome was ambushed and shot in a local saloon on March 3rd, 1908, while attempting to apprehend a murder suspect. Deputy Newsom left behind a wife and three children.
💙𝑴𝒂𝒔𝒕𝒆𝒓 𝑫𝒆𝒕𝒆𝒄𝒕𝒊𝒗𝒆 𝑨𝒖𝒃𝒓𝒆𝒚 𝑭𝒓𝒆𝒅 𝑱𝒐𝒉𝒏𝒔𝒐𝒏, who lost his life on February 11th, 1997 when his patrol vehicle was struck by another car. Detective Johnson had served with the Citrus County Sheriff's Office for 16 years prior to his death.
"𝑻𝒉𝒊𝒔 𝒎𝒆𝒎𝒐𝒓𝒊𝒂𝒍 𝒊𝒔 𝒂 𝒗𝒊𝒔𝒊𝒐𝒏 𝒐𝒇 𝒐𝒖𝒓 𝒐𝒇𝒇𝒊𝒄𝒆 𝒕𝒐 𝒂𝒍𝒘𝒂𝒚𝒔 𝒓𝒆𝒑𝒓𝒆𝒔𝒆𝒏𝒕 𝒂𝒏𝒅 𝒓𝒆𝒎𝒆𝒎𝒃𝒆𝒓 𝒐𝒖𝒓 𝒇𝒂𝒍𝒍𝒆𝒏 𝒄𝒐𝒍𝒍𝒆𝒂𝒈𝒖𝒆𝒔, 𝒘𝒉𝒐𝒔𝒆 𝒍𝒊𝒗𝒆𝒔 𝒘𝒆𝒓𝒆 𝒔𝒂𝒅𝒍𝒚 𝒍𝒐𝒔𝒕 𝒊𝒏 𝒕𝒉𝒆 𝒍𝒊𝒏𝒆 𝒐𝒇 𝒅𝒖𝒕𝒚," said Sheriff Prendergast. "𝑨𝒔 𝒔𝒐𝒃𝒆𝒓𝒊𝒏𝒈 𝒂𝒔 𝒕𝒉𝒆 𝒓𝒆𝒂𝒔𝒐𝒏 𝒃𝒆𝒉𝒊𝒏𝒅 𝒕𝒉𝒊𝒔 𝒎𝒆𝒎𝒐𝒓𝒊𝒂𝒍 𝒊𝒔, 𝒘𝒆 𝒘𝒊𝒍𝒍 𝒎𝒂𝒌𝒆 𝒊𝒕 𝒐𝒖𝒓 𝒅𝒖𝒕𝒚 𝒕𝒐 𝒈𝒊𝒗𝒆 𝒕𝒉𝒊𝒔 𝒇𝒊𝒕𝒕𝒊𝒏𝒈 𝒕𝒓𝒊𝒃𝒖𝒕𝒆 𝒐𝒇 𝒅𝒆𝒅𝒊𝒄𝒂𝒕𝒆𝒅, 𝒔𝒆𝒍𝒇𝒍𝒆𝒔𝒔 𝒔𝒆𝒓𝒗𝒊𝒄𝒆 𝒕𝒐 𝒐𝒖𝒓 𝒍𝒐𝒄𝒂𝒍 𝒉𝒆𝒓𝒐𝒆𝒔."
Our office began the initial phase of planning and developing the memorial in May of 2019 to recognize and honor own fallen heroes. We are so proud to unveil this tribute and hope you will join us in saluting Citrus County's fallen heroes.