Inverness Sertoma joins search crew
1 min read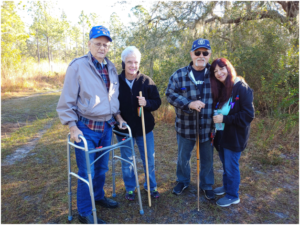 Nobody knows where 72-year-old, Carol McHugh, suffering from dementia, went after she took a walk with her dog near her home in Inverness on June 8, 2017.
On February 9, 2020 the cold weather did not deter the Inverness Sertoma Crew from joining over ninety volunteers as part of the Carol McHugh Search Team organized by Carol's friends and family members.
The continued search for Carol has helped spread awareness of dementia to communities in Citrus County.
Bud Osborn worked the Volunteer Check – In Station, Suesan Alvis, Rainer Jakob and Dolly Mayes joined the Certified Search and Rescue Team by methodically combing the woods off Sand Piper Drive, Inverness where Carol McHugh was last seen.
For more information about this program or how to become a member of Inverness Sertoma Club contact Cynthia Oswald at Invernesssertoma@gmail.com .