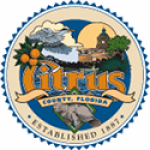 Citrus County Growth Management Department has created a virtual Information Meeting for the Suncoast Parkway 2 Cardinal Interchange available at www.citrusbocc.com, located on the homepage under Recent News or at Youtube https://youtu.be/TdhkyHnuYms.
The virtual meeting is a narrated PowerPoint presentation by Assistant County Administrator Steve Lachnicht and Growth Management Director Michael Sherman, AICP.
The presentation includes instructions for public input.
The purpose of this second meeting is to continue discussion with the public the Cardinal Interchange potential land use, a timeline for completion, and information on new infrastructure to be constructed. "Comments from citizens will be valuable to county commissioners as they put together a plan for West Cardinal Street," said County Administrator Randy Oliver.
"Tampa Bay Regional Planning Council (TBRPC) presented a land-use corridor study to the commissioners last year, which was meant to be a starting point for discussion but did not include public comments," said Steve Lachnicht, Assistant County Administrator. "This public meeting and subsequent discussions will build on the TBRPC study."
This virtual Public Information Meeting will give interested persons an opportunity to email or phone the project team questions and provide comments.
For information and updates on the interchange planning process, you may visit the Citrus County website at www.cotrusbocc.com .